When someone has passed, sending flowers is a traditional way to express grief and condolences. Customs can vary from culture to culture, and knowing how to select and order the right arrangement can be daunting. Use these quick, easy tips to get the answers you need and check out our Funeral and Sympathy Collection.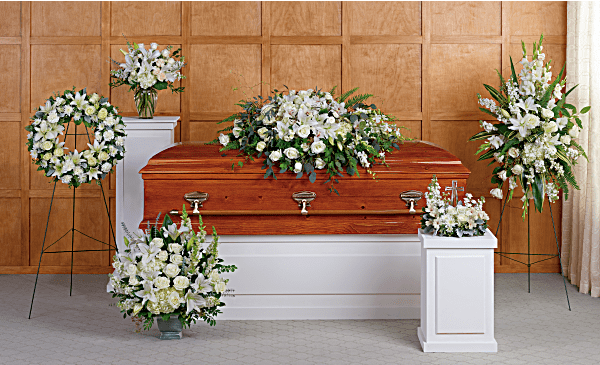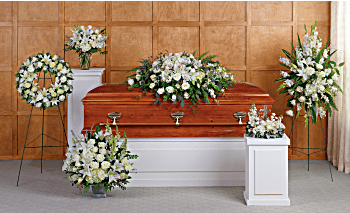 What Flowers Are Appropriate for a Funeral?
The type of flowers you choose will depend on who has passed and your connection with them:
Lilies are a traditional funeral flower and are always appropriate
Roses are common flowers for funerals and come in a variety of colors for every funeral style
Gladioli make wonderful standing fan sprays and are a traditional funeral flower
Carnations are fragrant, long-lasting, and perfect for a sympathy flower arrangement, especially for a mother who has passed.
Chrysanthemums are sent specifically for funerals in many cultures as well
Sending a potted plant to a grieving individual or family is a lovely gesture. Hydrangeas and orchids are ideal choices. The hydrangea can be planted outside at a later point in the grieving process, while orchids make an uplifting visual statement when a family is in mourning. Choosing funeral flowers with a particular meaning is a common expression of support.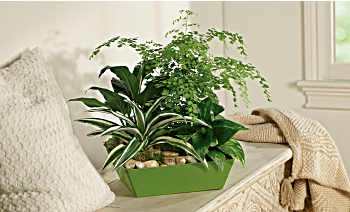 How to Send Flowers to a Funeral?
Read the funeral announcement carefully. Many families list their preferences in the obituary or other public statement and include details about where to send flowers. As long as you have the name of the deceased, florists can find the location for you.
It's best to follow the family's wishes regarding donations in lieu of funeral flowers. In addition to a donation, cut flowers, baskets, or potted plants sent to the home can be uplifting. If you learn of the funeral months after it has taken place, sending flowers or a potted plant to the home is acceptable.
Next, you'll need to decide what type of arrangement and flowers you want to send. Flower baskets, bouquets in vases, wreaths, sprays, and potted plants are all possibilities. If you're unfamiliar with the culture or rituals of the family, we've prepared a guide on funeral customs by religion, ethnicity, and culture to assist you.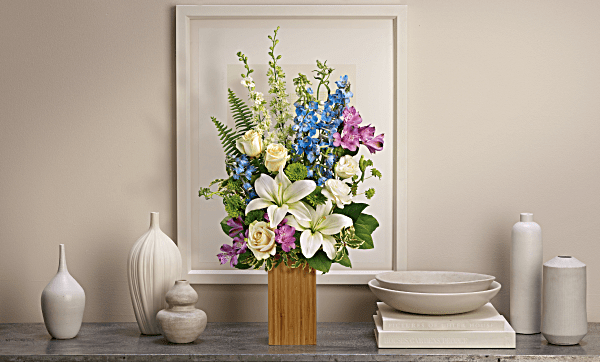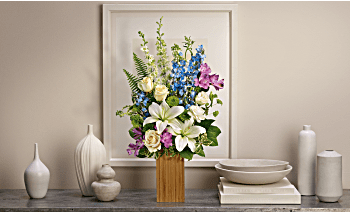 How to Order Flowers for a Funeral?
Flowers can be delivered to a memorial service, viewing, funeral service, graveside location, or the family's home. We have a wide variety of options available for the casket, service, and home of the grieving.
A wreath or spray on a free-standing easel is easy for funeral staff to place and move around and a beautiful addition to a funeral service. The Magnificent Life Spray is an excellent choice when you want your flowers to be present throughout the funeral process.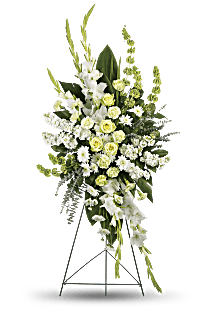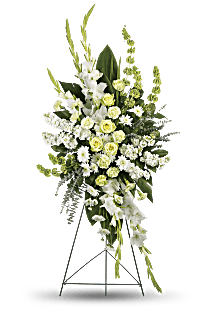 Tabletop sympathy bouquets are especially beautiful to send. Our sympathy flowers for the home or office are wonderful options for family, friends, and coworkers when you are looking to send your condolences to their home.
Our skilled, compassionate local florists will hand-arrange and hand-deliver your funeral flowers to the service or home with great care. If you need same-day flower delivery, place your order by 3 pm, Monday - Friday and before Noon on Saturdays and Sundays in the recipient's time zone.